Time table of applying for a work (Z) visa at UCAS
| | | |
| --- | --- | --- |
| What you need | Where to go | How long |
| I外国人来华工作许可通知Work Permit | Beijing Administration of Foreign Expert Affairs | 5+10 work days |
| II工作签证 Work (Z) Visa ( Valid only for 30 days ) | Chinese embassies and consulates | 3-5 work days |
| III外国人工作许可证Foreign Expert Certificate | Beijing Administration of Foreign Expert Affairs | 5 work days |
| IV居留许可Residence Permit (One year multiple entry visa ) | Exit-Entry Administration Bureau of Beijing Municipal | 10 work days |
IV Residence Permit
After a long process, you currently have the Foreign Expert Certificate, physical examination authentication (You will receive two copies from Beijing International Travel Healthcare Center, one for Foreign Expert Bureau, the other for Exit-Entry Administration Bureau of Beijing Municipal), please bring the following documents to Exit-Entry Administration Bureau of Beijing Municipal:
1. 申请报告(说明基本情况、聘请原因、职务、期限等,加盖单位公章),请见附件模板1;
2. 有效护照或者其他国际旅行证件;
3 .在京居住地派出所或旅店业开具的有效《临时住宿登记表》;
4..使用黑色墨水笔填写《外国人签证证件申请表》,粘贴一张2寸近期白色背景正面免冠照片,加盖聘用单位公章,请见附件2;
5..人力资源社会保障主管部门或外国专家主管部门出具的《就业证》、《外国人工作许可证》、《海外留学人员工作居住证》等允许工作的证明;
6..非持Z签证入境者,须申请S2探亲签证入境,还应当提交符合中国政府有关主管部门确定的外国高层次人才和急需紧缺专门人才条件和要求规定的证明材料,或其他符合规定的家庭关系证明材料。家庭成员关系证明是指:有关国家主管部门出具的结婚证明、出生证明、收养证明以及相关公证;或所属国驻华使领馆出具的婚姻证明、出生证明、亲属关系证明、姓名等资料变更证明等。非持S2签证入境申请换发S2签证的,外国主管部门或者公证部门出具的婚姻证明、出生证明、亲属关系证明、姓名等资料变更证明等应当经中国驻该国使领馆认证。
7 .申请人及其随行家属照片各一张(请将姓名写在背面);
8 .首次申请居留证件的外国人,提交北京出入境卫生检疫部门(北京国际旅行卫生保健中心)出具的身体健康认证证明。
9. 随行家属须申请S2探亲签证入境。需提交家庭关系证明。家庭成员关系证明是指:有关国家主管部门出具的结婚证明、出生证明、收养证明以及相关公证;或所属国驻华使领馆出具的婚姻证明、出生证明、亲属关系证明、姓名等资料变更证明等。非持S2签证入境申请换发S2签证的,外国主管部门或者公证部门出具的婚姻证明、出生证明、亲属关系证明、姓名等资料变更证明等应当经中国驻该国使领馆认证。
1. Recommendation letter of applying for a residence permit from IAO of UCAS including the following information: name, job title, passport number, responsibility, term of contract and the official seal of IAO of UCAS. Please see the template form in the attachment 1. Please contact IAO or your Chinese colleague at school of UCAS. We will write this letter for you;
2. Valid passport or other international travel certificates;
3. Valid Registration Form of Temporary Residence for Visitors issued by police station of the temporary residence or hotels in Beijing;
4. Completely filled VISA / STAY PERMIT / RESIDENCE PERMIT APPLICATION FORM with recent half-length, white background, bareheaded, full-faced 2-inch color photo and official seal of the Unit. Please fill in the application form in black ink or sign pen.
The inviting units should register and submit relevant certification in accordance with the law. Please see the attachment 2.
5. Certifications including employment permit certification of foreign experts and residence permit for studying and working abroad issued by the competent department of human resources or foreign expert office.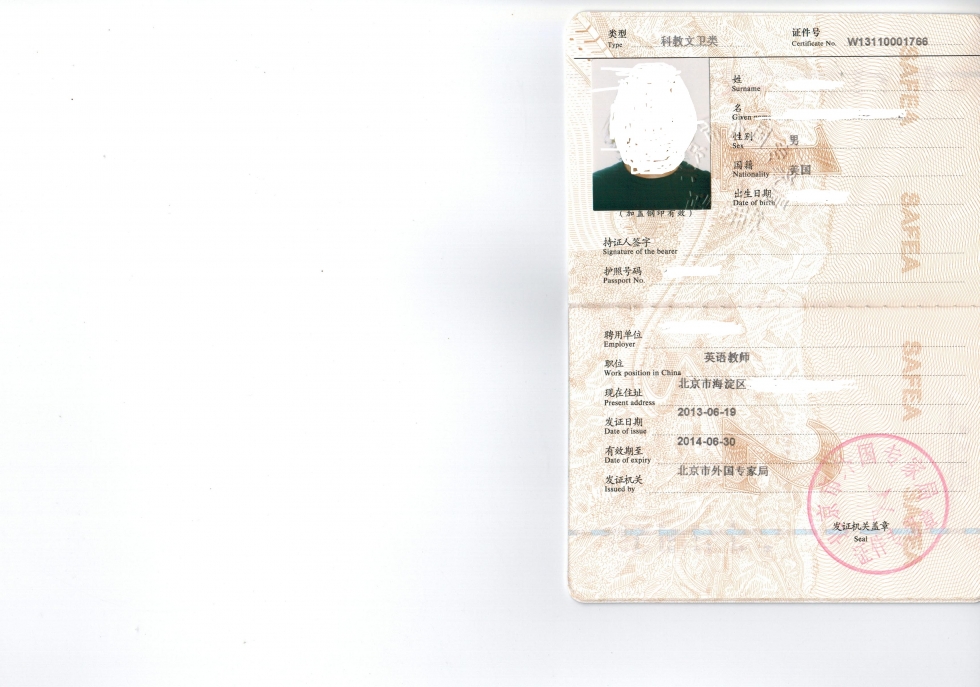 6. Spouse visa for residence permit. Foreigners who enter into China with non-Z visa should submit verification materials by Chinese Embassy in accordance with the introduction condition and requirement of foreign high-level talents and professional personnel in urgent need of China determined by competent department of Chinese government. If spouse visa is applied in China, a verification of relationship prove has to be provided from relevant foreign embassies in China.
7. Foreigners who are more than 18 years old and apply for residence permit for the first time should submit health certificate issued by Beijing entry-exit health and quarantine department (or the Beijing international travel health care center).
8. Original copy of physical examination authentication in Beijing International Travel Healthcare Center.
Contact person: Mr. Wang Jingwei
Program Coordinator
International Affairs Office, University of Chinese Academy of Sciences (UCAS), 19A Yuquan Road, Beijing, China, 100049
Tel: +86 10 88256140
What you do: Bring all original copies to Exit-Entry Administration Bureau of Beijing Municipal. And you have to come by yourself if this is a first application. The photo collection of yours is required. Please be noted that after you get your residence permit, please go to the local police station or hotel to claim a new Registration Form of Temporary Residence with new visa info.
What we do: Prepare the recommendation letter and make sure your application approved, it will take 10 work days to get your residence permit. The application of residence permit will be reimbursed by UCAS.
Where is Exit-Entry Administration Bureau of Beijing Municipal and what they can do for you? http://www.bjgaj.gov.cn/web/index.html
北京市东城区安定门东大街2号
(010)84015300
More info about visa in China, please visit:
http://www.bjgaj.gov.cn/web/detail_getWsgsInfo_371642_col1810.html