GUIDING PRINCIPLE OF EXAMINATION
To select the best and most qualified students
To make sure the students understand the basic knowledge of their areas of study
To promote the learning ability and scientific research ability
To encourage comprehensive learning and promote civilizations and cultural exchanges
PURPOSE OF EXAMINATION
The purpose of the qualifying examination is to assess the student's potential to perform scholarly research at the Ph.D. level. The student is to be evaluated for:
Reading comprehension ability and writing skills
Creative thinking ability
Communicating ability
Cooperative ability
EXAMINATION COMMITTEE
The Ph.D. Qualifying Examination is administered by the Qualifying Examination Committee. A committee secretariat is specifically set for the Quantifying Examination arrangement in IC-UCAS.
QUALIFYING EXAMINATION
The Qualifying Examination Committee will organize the qualifying examination only once each semester. Students should pass the Qualifying Examination within one year from registration. Each student has two chances to pass the examination.
A comprehensive test scheme is designed to evaluate the Ph.D. candidates, including professional courses examination, committee evaluation, training unit evaluation, and supervisor evaluation (Table 1). An exam system is designed for the Qualifying Examination (http://ic-exam.ucas.ac.cn). The total test score is 100 points, and 60 points are the passing grade for the Qualifying Examination.
Table 1. Forms of the Qualifying examination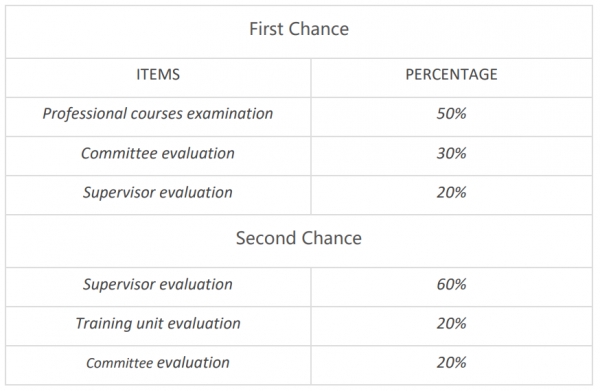 RULES FOR STUDENTS
To sign up for the Examination, a student should be aware of the following rules:
A student who does not register for the Qualifying Examination at the required time or who registers but does not appear for the examination will lose one chance by default.
A student who failed in the first chance may take the Qualifying Examination at the end of following semester.
The fellowship awardee who fails the qualifying examination twice within one year will face the termination of his/her fellowship and Ph.D. program.
SIGNING UP FOR THE EXAMINATION
Students should submit the application form (Attachment 1) to the General Office of IC-UCAS or finish the online registration in the exam system.
NOTIFICATION OF QUALIFYING EXAMINATION RESULTS
The results will be released on the international college website by the General Office of IC-UCAS.
CONTACT INFORMATION
Any questions about this examination can be addressed to the Qualifying Examination Committee at qec@ucas.ac.cn or ic-ucas@ucas.ac.cn.
Tel: +86-10-82680959
Fax: +86-10-82680957