I heard a line from a famous movie that said, "Life is like a box of chocolates. You never know what you're gonna get". I personally feel incredibly lucky to have opened the box called China and found a home away from home. I am Pratteek Das and here is my short perspective about my life in China and Dalian Institute of Chemical Physics in particular. It is now widely known that China is a country with powerful research capabilities and the doors are open for foreign students who want to build a career in science and technology. But how is life here for a foreign student? This is a question that undoubtedly arises in the minds of many students. I hope to clear that fog with my perspective.
I got to know about Prof. Zhong-Shuai Wu from a senior at my university in India. They had worked together in Germany. Prof. Wu accepted me as a PhD candidate and urged me to apply for the CAS-TWAS President's Fellowship Programme. I went with the flow, got the scholarship and made my way to this enigmatic country called China. Before my trip I had many questions in my mind- It's a new place, with new people and a new language! How am I going to manage? I imagined a chaotic life because as an Indian, China felt very familiar yet so distant when I landed in Beijing.
But once I entered the UCAS campus, I felt relaxed because it seemed like everything had been planned in advance. Student volunteers were assigned to guide us through every step and the very next day we got all that we needed included new debit cards, sim card, etc. to embark on this new journey. The efficiency was mind-blowing.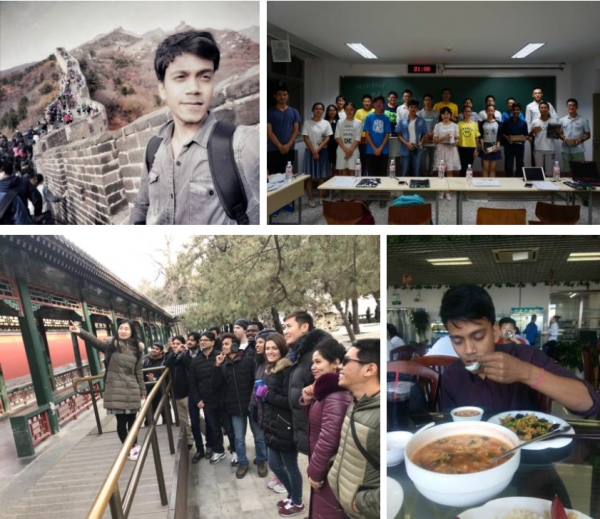 Then came the time to get to know China. China's culture is much different from the rest of the world and it has its own uniqueness. I believe much of China's culture is hidden behind a language barrier which UCAS helped us scale with the language training. The teachers were passionate about teaching us this new language and mixed games and role-playing elements in classes. I took the classes seriously. Soon I was impressing taxi drivers and Chinese natives with my Mandarin! Once I knew the essentials of Mandarin I set out on a mission to explore Beijing. I'm more interested in people and food so I first joined some clubs in UCAS and made a few friends. They were so kind and friendly! They introduced me to new dishes, took me to KTV parties and we made a lot of memories together! Time flew quickly when I was learning and having fun at the same time. 5 months passed and it was time to get to work.
I arrived at my host institute, DICP in 2018 and it is here that I found my purpose and a family. The head of this family is my supervisor, Prof. Zhong-Shuai Wu. On the very afternoon that I arrived at DICP he was organizing an international conference and he warmly invited me to join it. And ever since then there has been no looking back. That's the thing about UCAS and DICP. Every week there is something academic happening and everyone can participate. The academic bond between different research groups is very strong which is good for students with multi-disciplinary research ideas like me to find collaborations! At DICP, to bring our ideas to life there is a huge common laboratory with all kinds of equipment, even for material characterization. The process is streamlined, so the wait-time per equipment is very small! Moreover, most research groups here have more specialized equipment which we can request permission for use. So far I haven't gone out of DICP for experiments and it has made my life so much easier! The collaboration also extends to individual training for any machine operation that we wish to learn. Thanks to this incredible scope of collaboration, my research career has seen a gigantic growth since 2018 and helped me build a niche for myself.

Yes, the research experience has been very good for me but that is not all. There are numerous aesthetic and cultural aspects that have greatly contributed to my growth. Dalian is considered as one of the most beautiful cities in all of China and DICP provides a snippet of it. The walk to my lab every day is full of surprises and I think to myself- What beautiful sight will I see today? Such serene environment brings motivation for waking up, even on cold days! When the mind is at peace, new research ideas appear on their own!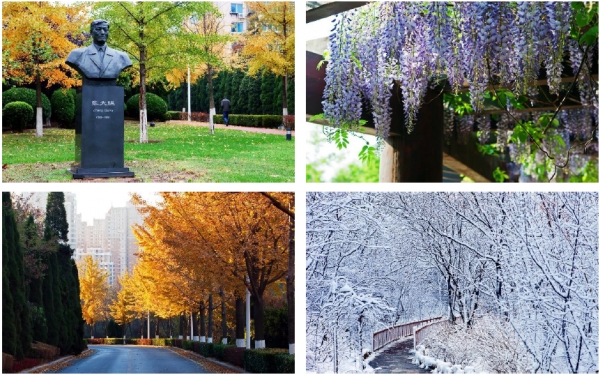 The serene atmosphere inside DICP is contrasted by the vibrant location called Xinghai square, which is about 400 meters away by the sea. I go there for skating and grabbing coffee quite often. I've met so many different kinds of people there who have added more details to my incredible experience in Dalian. While talking about my experience, I can't help but mention the Dalian No. 1 Toastmaster's Club where warm-hearted people from all walks of life gather on Saturdays to share their personal experiences and stories in the form of speeches. I have received more than just stories from here. I've received life-guidance, life-long friends, emotional and spiritual support which enriched my life in Dalian and added innumerable positive points to my perspective about the Chinese culture! They represent the essence and spirit of Dalian and greatly helped me find work-life balance.
But life is not a bed of sunshine and roses. I'm a human too and there were times when I was overwhelmed, felt helpless and down. At such times how people around us react to our feelings is a true test of a relation's strength. This is the highlight of the human aspect of life at DICP. We have a heart, a life and a soul which yearns for human connections and at DICP I found this connection. This connection was thoroughly tested during the COVID time when I was stuck in India for 3 years. And DICP helped me overcome the effects of COVID on my career and life. My supervisor helped me find connections in other countries to locate labs for continuing my PhD. My friends helped me fill scholarship applications for financial support and even helped me with experiments so that my PhD wouldn't stop. Not just my group but the entire management of DICP and everyone I knew came forward to help me in one way or another to overcome all the hardships…. Just like a family would.
That's the best thing about China in general and UCAS and DICP in particular. I found a blend of professional and personal life which made China feel like a family to me. Once I became a part of this family, it didn't matter if I was inside or outside China… I was treated like family. So, no matter where I am in the world I can proudly say- I have two homes and I love them both.
Last month I finished my PhD. The journey from being Lucky to Dr. Pratteek Das had many ups and downs. I'm so happy that I found this family which made the ups very high and the lows manageable!
I can't thank UCAS and DICP enough for supporting my life and research and for never letting me miss home! That's why I always say, this is my home away from home.
Author: Pratteek Das